SUDÁFRICA ANTICIPA UNA COSECHA EXCELENTE
Sudáfrica está experimentando un año 'on' en su produccion, lo que significa que después de una cosecha baja el año pasado, los árboles están cumpliendo su promesa este año. Con un aumento del 63 % en la producción, con un pronóstico anticipado en envíos de 16.5 millones de cajas en comparación con los 10.1 millones de cajas del año pasado.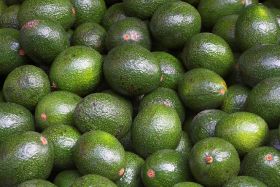 The first South African avocados of the new season will arrive in the UK and Europe in the week beginning the 19 March, signalling the start of a season with a bumper crop.
South Africa is experiencing an 'on-year' this campaign which means that after a low crop last year, the trees are delivering their full promise this year.
However, even the biggest optimist would not have predicted a 63 per cent increase in production, with the forecast anticipating shipments of 16.5m cartons compared with last year's 10.1m cartons.
"This is not all due to us having an 'on-year'," said Subtrop's Derek Donkin. "There are a lot of new orchards coming into production showing the real evidence that our industry is in a growth phase."
The new investment in orchards during the past few years will be continued this year and this reflects a high degree of optimism in the industry about the future for avocados.
"We are delighted with this year's prospects," Donkin explained. "It will allow us to extend our fruit to consumers in a market which still shows huge potential."
Donkin said the industry now has some 1,700ha planted with avocados and that there are plans to plant another 1,000ha in the near future. "Nurseries are extending their production of trees and new nurseries are entering the industry, which will mean that there will be no shortages in plant material."
The South African avocado industry has transformed itself over the last five to ten years. The present growth is in essence the result of years of investment in market development, which has helped to create an 'avocado hungry' market with demand growing at a steady rate and which is unlikely to be satisfied any time soon.
The fact that the South African industry has joined other avocado producing countries in annual promotions across traditional markets, means that the momentum in market growth will continue.
The South Africans also have a vibrant local market, with a strong promotional programme and growers having invested in late season production to take advantage of the period normally filled by imported products.
The export season will last until September and the last fruit offered to the international market will be cleared by the end of October.

fuente: fruitnet.com